After you create campaign links in Uplifter, they are stored in the Track>View links page where you can view, delete and edit them.
You may wish to delete campaign links because:
You created a link that is no longer needed
Both the URL and parameters were incorrectly typed or selected
You incorrectly typed or selected some parameters (UTMs)
You may wish to edit campaign links because:
You need to update the landing page URL
You need to rename a parameter after the campaign has gone live
If the campaign link is not in use and/or has not been distributed, we always recommended deleting and recreating a campaign link.
Note: Only account admins can delete and edit other users campaign links. Regular users can only delete and edit their own campaign links.
How to delete existing links
1. Check the box to the left-hand side of the link(s) you wish to delete
2. Click the red 'Actions' button and select 'Delete selected'

How to update the landing page URL
1. Hover over the landing page URL and click on the edit icon


2. In the modal, make changes you want to the landing page URL (or/and the query string after it)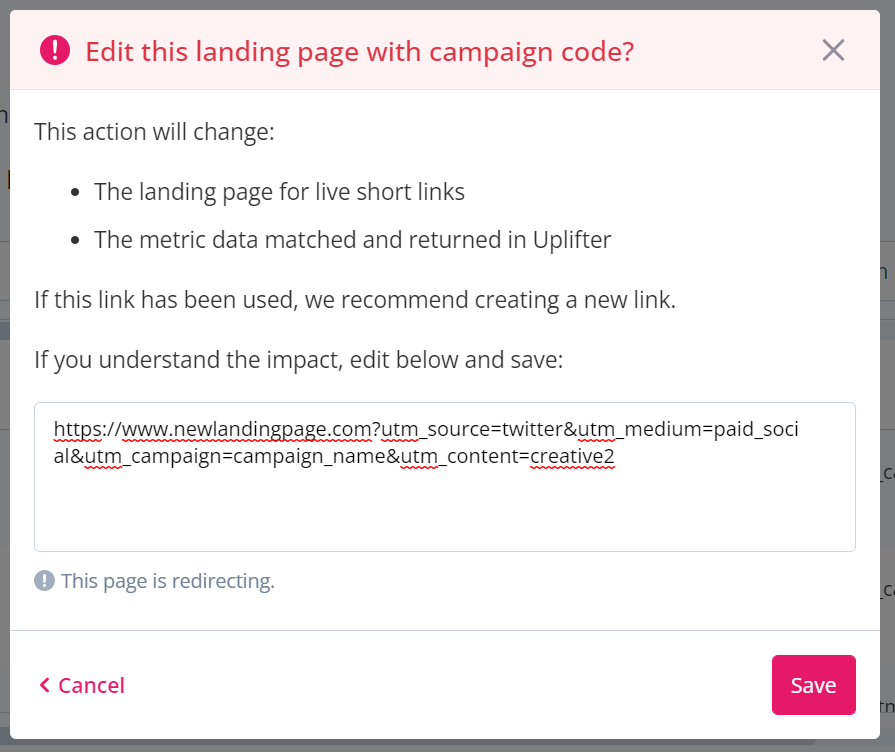 3. Click 'Save'
Important: Changing the link here will only change it in Uplifter. If the link has already been shared, then changing it here will not automatically change how users reach your website or what landing page they land on.
Uplifter reads the full campaign link for returning accurate metrics. If the campaign link URL or query string parameter (UTMs) no longer matches the data stored in your analytics provider, then Uplifter will not return accurate data.
How to edit campaign link parameters (UTMs)
You may want to edit the campaign link parameters (UTMs) after a campaign link has been released and used.
Example: Someone incorrectly selected utm_source=facebook when creating a campaign link which was applied on twitter ad platform and should have been utm_source=twitter.
If you edit a parameter from Facebook to Twitter in the Uplifter Track>View table, it will not automatically change the 'Landing page URL and campaign code' value. This means in Google Analytics the source will continue to read Facebook but in Reports>Performance it will be correctly classified as Twitter.
Because the data in Google Analytics and Uplifter would no longer show the same data in this scenario, we would always recommend deleting, recreating and applying a new campaign link in your ad platform if possible.
To edit a campaign link parameter value:
1. Hover over the parameter and click on the edit icon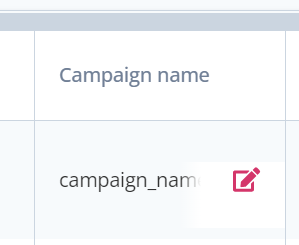 2. In the modal, make the changes you want to the parameter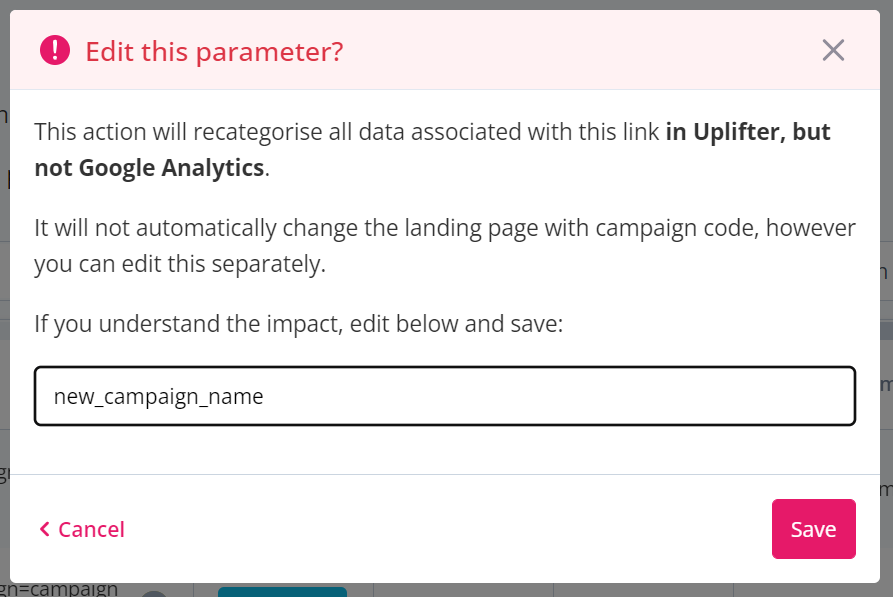 3. Click 'Save'