QR codes have exploded since the start of the 2020 pandemic, as the touch-free and frictionless features help streamline user journeys.
They provide a useful way of connecting on and offline marketing efforts, giving your audience instant access to more info about your products and services. They help increase user engagement and make call-to-actions more effective.
What are QR codes?
A QR code (quick response code) is a type of matrix barcode invented in 1994 by the Japanese automotive company Denso Wave. A barcode is a machine-readable optical label that can contain information about the item to which it is attached. In marketing, QR codes contain often data that points to a website or application. A customer can scan the QR code using a smart phone camera to open a specific webpage or app.
When used in conjunction with Uplifter Short links and UTMs, you can track how many people scanned each QR code to compare offline marketing activity and track follow up actions online.
When should you use QR code?
They can be used in any setting where users have the ability (and incentive) to scan the QR image to access a webpage. They are best used to bridge offline activity with online action.
The are best used on:
Print: To give users an offer or further information.
Billboards adverts (print or digital): To give a passing users the ability to discover more when you have limited space.
Events: Displayed on entry they can give participants access to further information without the environmental cost of printing.
How to create QR codes
You can now customise your own QR code in Uplifter with your brand logo, favourite colour and tagged UTM codes. You also get to decide the file type and image size of them. All done in just a few clicks.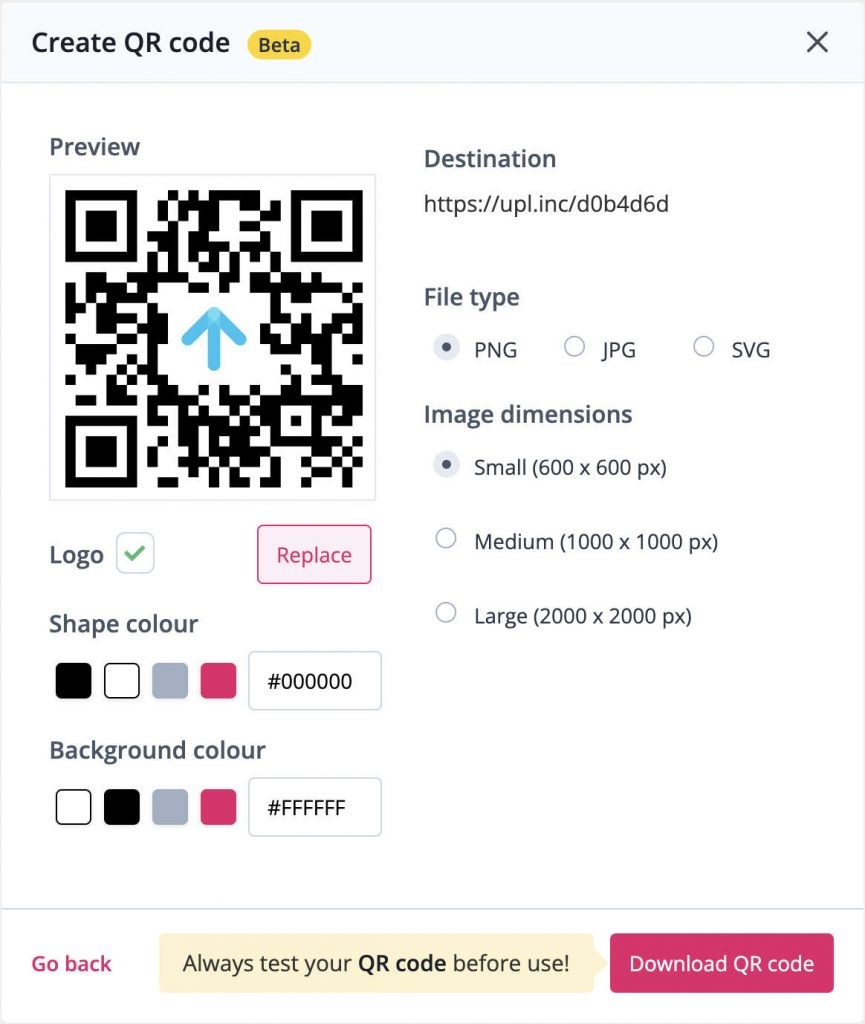 You can create a QR code in Track>Create links by:
Enter the required campaign link parameters
Click on the 'Link type' dropdown
Click on 'Short link + QR code'
Or create in Track>View links by:
Ticking the checkbox of a previously created link
Click on the 'Actions' button and then click 'Create QR code'