Admins can create a new workspace for a separate company, brand, website or channel. Each workspace can only be connected to a single web analytics profile.
Agencies create separate workspaces for different clients, so each client can have different users, link taxonomies, reports and integrations.
Large companies can create separate workspaces for different brands or websites. By default each workspace is partitioned, so you manage each one separately. Email us to share the same

Track > Create

link builder and dropdowns across your workspaces.
A few companies can create different workspaces for different marketing channels. We don't recommend it because it makes comparing channels and managing users more difficult.
Note: Simplicity is the key to success, some of our largest and most successful clients just use one workspace, allowing you to compare all marketing activity. If want only certain parameters to appear for certain channels/mediums we recommend using dynamic parameters.


How to create a new workspace:
1. Login to Uplifter
2. Click on the top-right hand account selector and 'Create a new workspace'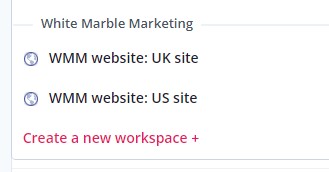 3. Enter the name of your new workspace
4. Click on 'Create a new workspace' button
If you need to connect your new workspace to a different web analytics account:
5. In Settings click and expand 'Manage workspaces'
6. Find your new workspace and click the 'Connect' button
7. Follow the next instructions to connect to this analytics account